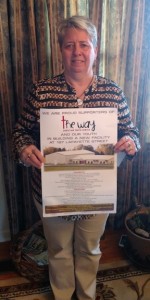 The Way has been blessed with contributions from individuals, businesses, churches and other organizations.  However, we've never received a donation from a sorority – until now.
We thank Beta Nu Chapter 4719 for becoming a Proud Sponsor of The Way.
Beta Nu is the Trigg County chapter of the international philanthropic sorority Epsilon Sigma Alpha.  This local group of dedicated women organize fundraisers throughout the year to raise money for programs and organization within our community.  They are sponsors of the annual Christmas Angel Tree and the Math-a-thon at Trigg County Elementary School, which raises funds for St. Jude Children's Research Hospital.
Beta Nu also awards two annual scholarships to graduating Trigg County High School seniors. And the chapter makes annual contributions to the local Rotary Club and other worthwhile causes.
Chapter treasurer Nancy Moore, pictured here, said members voted to become a sponsor of The Way at a recent meeting.  "In our discussion," she explained, "all members felt that, even if only one child was helped and saved through The Way, our contribution was certainly worthwhile."