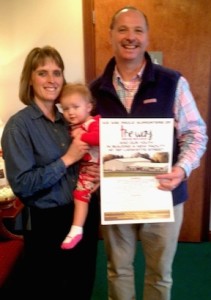 As funeral directors, Todd and Clarissa King play a critical role for families in need of support.
They recently chose to play a critical role for a ministry in need of support by making King's Funeral Home a Proud Sponsor of The Way.
"We believe in the ministry of The Way and are glad to support it in any way possible," they told us.
Todd and Clarissa make a special effort to see that the people they serve are given the very best funeral or memorial services.  They are well versed in all aspects of the process, from the key decisions the family must service details to the necessary legal documentation that is required after a loved one dies.
King's Funeral Home is located at 161 Lone Oak Drive in Cadiz.  The phone number is (270) 522-7172.