At 73 years and counting, few if any local organizations have helped more youth than the Cadiz Lions Club. That's one of the many reasons why The Way is gratified that the club has chosen to sponsor our ministry.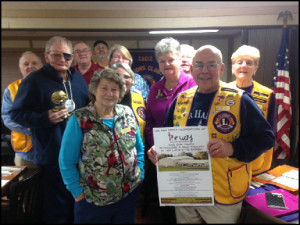 "I praise God for those who are devoted to providing such a wonderful place for our youth," member Ann Knowles said.
Serving local youth is nothing new to the Cadiz Lions Club. According to president Gary Knowles, the club provides scholarships to high school seniors, sponsors vision tests for Trigg County grade school and middle school students, and even hosts an annual Easter egg hunt at West End Park.
The club also helps sponsor Camp Crescendo, a camp free to children across Kentucky who are blind or visually impaired, deaf, infected or affected by HIV/AIDS, or in foster care of the custody of grandparents.
For information on how your business or organization can become a sponsor of The Way, contact Carl Heckmann at (270) 498-1933.