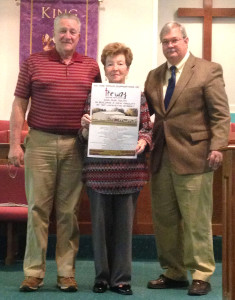 One of the first churches in Trigg County to bless The Way financially on a monthly basis was Canton Baptist Church. We're honored to call them a Proud Supporter of The Way.
"Canton Baptist Church is grateful to participate in the ministry of The Way," said Interim Pastor Larry Baker. "We pray that God will use this ministry mightily in reaching the youth in Trigg County for Christ and providing them with wholesome activity while pointing them to the local church."
Canton Baptist has served Trigg County since 1855. In 1930, it reorganized and reopened an old community church building that had been obtained from the Methodists and Presbyterians who had abandoned it. In 1988, the church began building the facility where it worships today.
The church's slogan is: "Teaching The Word, Doing The Work: People Reaching People For Christ." Two Canton Baptist members who embody that message are Richard and Vonnie Holsapple, pictured at left with Pastor Baker. Richard and Vonnie are volunteers at The Way, and we greatly appreciate their participation.
Canton Baptist Church is located at 423 Boyds Landing Road in Cadiz.  It holds an early service at 9:00 a.m. Sunday and a late service at 11:00 a.m., with Sunday School at 10:00 a.m.  Sunday evening service is 6:00 p.m., and there's a Wednesday prayer and Bible study starting at 6:00 p.m.