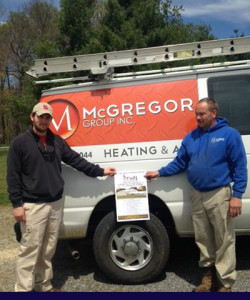 Clayton McGregor (left) is an active member of Northside Baptist Church in Princeton. Scotty Hampton (right) and his wife Andrea are youth leaders at Oak Grove Baptist in Cadiz.
Together, they form McGregor Group Inc. Heating and Air Conditioning, a new Proud Sponsor of The Way.
The company has contributed to the ministry in ways other than financial. It provided assistance during the development of HVAC plans for our new youth center, helping us obtain state approval.
Plus, Scotty and Andrea have ministered to several students who attend The Way.
McGregor Group is a Christian-owned and operated business located at 960 Varmintrace Road in Princeton. You can reach them at (270) 896-5044.