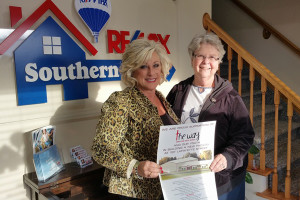 KaDonna Nichols is no stranger to The Way. She has spent many Monday afternoons volunteering at the ministry, interacting with students and helping however she can.
Now, thanks to a generous donation, she's become a Proud Sponsor of The Way. That's KaDonna and Martha Davis, The Way's fundraising coordinator, in the photo at left.
KaDonna earned her Realtor license in January and now works for RE/MAX Southern Charm. A resident of Trigg County for 25 years, she knows that this area needs a youth center like the one The Way is building.
"There's a lack of good places in town for kids to go after school," she explains. "The Way offers an opportunity for kids to have a place to go and receive guidance in a Christian way." She added that The Way may be the only opportunity many of these students have to interact and develop friendships with Christian adults.
RE/MAX Southern Charm is located at 72 Lone Oak Drive in Cadiz. You can reach KaDonna at 270.350.3665 (office) or 270.350.8117 (cell).