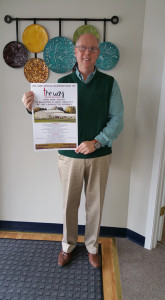 New Proud Sponsor of The Way Craig Stallons was born and raised in Trigg County. He knows the temptations that face kids in this area. It's one of the reasons he supports our ministry.
"The youth in our community need something to focus on, somewhere to go to after school," Stallons said. "If they don't have that, they can wander into areas and activities they don't need to get into."
Stallons, a member of East Cadiz Baptist Church (another sponsor of The Way) has also been a Realtor for 20 years. He appreciates what having a new, fully equipped youth center will do for this community.
"One of the first questions families ask when considering living here is about our school system," he said. "As a Realtor, when you can go beyond that to describe after-school programs like The Way where their children can go, that's a plus."
Stallons is a Realtor/Broker for Coldwell Banker, 110 Merchant St., Cadiz. You can reach him at 270.522.4699 (office) or 270.339.4739 (cell).