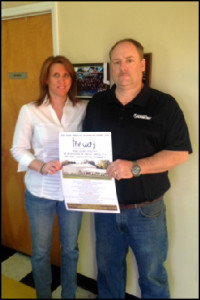 Joiner's Auto Body, a member of the Trigg County business community for nearly 50 years, recently became a business sponsor of The Way.
"The Way is a really great thing for the youth of Trigg County," Jason Joiner says. "Keep doing what you are doing."
Joiner's Auto Body opened in 1969 at the intersection of Highways 139 and 272, also known as Joiner's Corner. In 2000, it moved to its current location on Glenwood Mill Road. Nine years later, Jason took the reins.
The shop features 11 work bays, pickup and delivery, and a rental car if needed.
Other services include collision repair, body and frame reconstruction, painting, electrical service, hail damage and dent removal, bumper and grille work, and ground effects and spoilers.