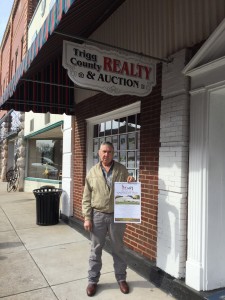 Ronnie Clark grew up in Trigg County.  He raised his three children here.  He understands how important The Way's new youth center will be for the kids in this area.
That's why Ronnie made his business – Trigg County Realty – the latest Proud New Sponsor of The Way.
"The Way is a good thing for the youth," Ronnie observed. "We need something to keep our youth busy, something with a good influence."
An avid hunter and fisherman, Ronnie is a member of the Cadiz-Trigg County Chamber of Commerce. He's also been a member of New Hope Baptist Church for 40 years.
Ronnie owns and operates several farms in the area, which may explain why farms are a specialty with Trigg County Realty.  The firm also offers free market analyses to its clients.
Few if any people know Trigg County real estate better than Ronnie.  And one piece of property he no doubt will be watching during the year will be 197 Lafayette – future home of The Way.