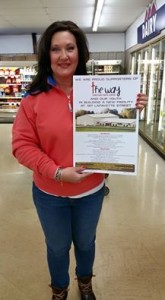 Mallory Lawrence owns and manages Hancock's Neighborhood Market. And as anyone who lives in Trigg County knows, no one is a bigger supporter of "neighborhood" than Mallory.
That's why we're pleased to announce Hancock's as the latest Proud Sponsor of The Way.
Mallory's backing of The Way goes far beyond monetary contributions. She served on one of the ministry's first fundraising committees, providing invaluable insights. Last year she sponsored and hosted a major fundraising event at her market.  Her involvement is based on her understanding of the community's need for a youth center.
"I believe in The Way and what it does for our youth," Mallory says. "It helps give youth a place to go after school and keep them off the streets. They hear Christian devotions. Many do not attend churches. Trigg County needs this youth center."
Mallory's parents opened the supermarket in Cadiz in December 1991, putting their daughter in charge as manager. During the past quarter-decade, they have expanded every department in the store and grown their number of employees from 15 to approximately 50 full- and part-time workers.
Mallory purchased the business from her parents in April 2009. Today, Hancock's prides itself on attentive customer service, friendly employees, quality meats and produce, a fully-stocked deli, and delivery service for those who can't shop for themselves.