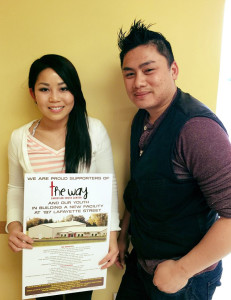 In Cadiz, there are plenty of nail salons to choose from. However, it's nice when a nail salon chooses you. That's what happened to this ministry when HD Nails made a contribution to our building fund and became a Proud Sponsor of The Way.
Owners Connie and Tony Le (pictured at left), who moved here from Georgia seven years ago, believe in what The Way provides to the community.
"The Way is a good cause," Tony explained. "We have two small boys (8-year-od Alex and 6-year-old Ashton) and we want them to have a place to go after school instead of being with kids who hang out and smoke weed or do other drugs. A new youth center will be a great place for them to go. We hope more businesses will support it."
HD Nails is located at 63 Lakota Drive in Cadiz. According to Tony, "we can do just about anything you want to fingernails and toenails."
The salon is open Monday from 9 a.m. to 2 p.m., Tuesday through Friday from 9 a.m. to 6 p.m., and Saturday from 9 a.m. to 2 p.m. To make an appointment, call 270.522.4043.