197 Lafayette St.
You can now reach us at 270-522-6441 during regular operating hours.
Welcome back students!
We have resumed normal hours of operation.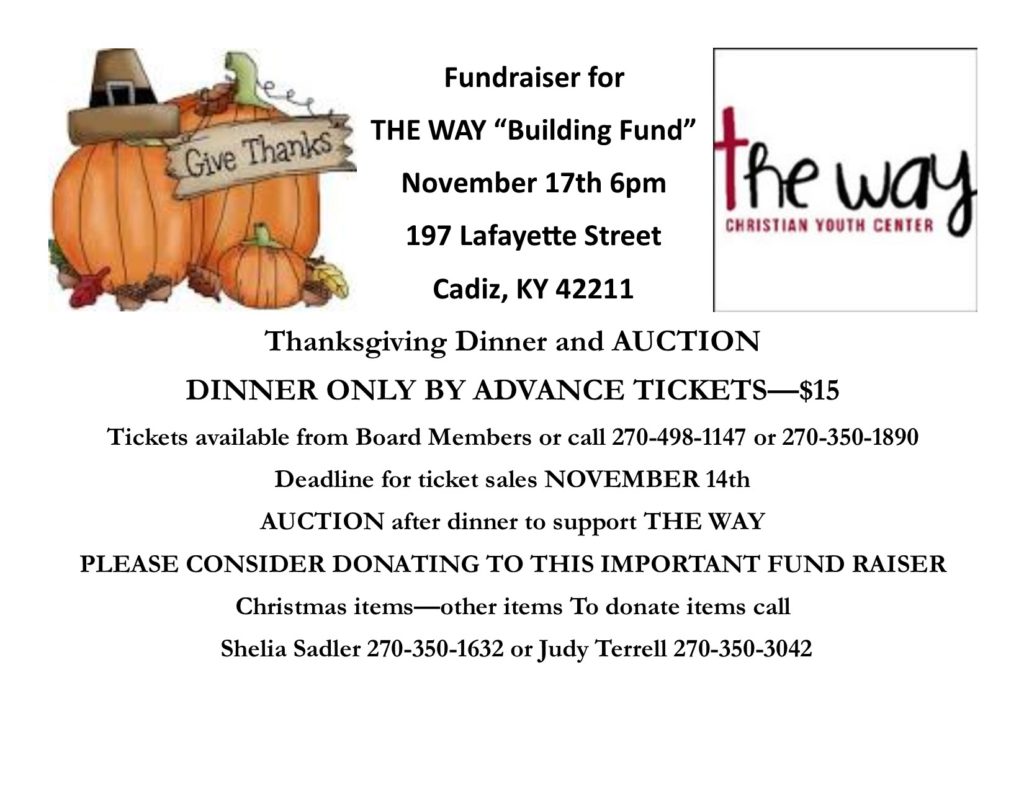 Sign ups/evaluations for Upward Basketball/Cheerleading are as follows:
 Monday, November 12th at 6 to 8 pm
 Thursday, November 19th at 6 to 8 pm
 Saturday, November 17th at 9 to 11 am
 Saturday, November 24th at 9 to 11 am
Games will be played on Saturdays starting 12 January.  
Students, Kindergarten through 8th grade, are eligible to sign up for either Basketball or Cheerleading.  
Cost is $65 per student and some scholarships will be available. If anyone would like to sponsor a youth, please contact Jason Lowe at 331-3610 or Brad Chalfin at 350-3905.
There are new opportunities to help support The Way's fundraising goals. Check out our upcoming fundraiser on our fundraiser page.
Be watching for upcoming events and opportunities to participate in new trainings.
Watch the site and Facebook for upcoming programs during the school year.
The Youth of Trigg County wish to offer a Thank You to all who are supporting The Way.
THE WAY THANKSGIVING MEAL WITH All THE TRIMMINGS AND CHRISTMAS AUCTION FUND RAISER FOR THE WAY CHRISTIAN..