Help Us Pay Off The Last $50K of our $1.2M Facility
Looking for a last-minute tax deduction? Why not donate to our building fund? Think of all the benefits.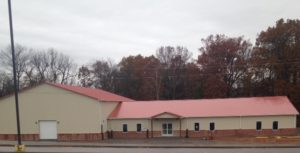 You lower your 2018 tax bill. Since The Way is a tax-exempt organization, your donation is tax-deductible.
You help kids. A new youth center gives students a fun and uplifting place to go after school.
You provide for the disadvantaged. Everything at The Way is free, including meals and refreshments. No one is excluded because he or she can't afford it.
You improve the community. Unlike a donation to national organizations, every penny you give stays right here in Trigg County. The new youth center will be a facility we all can be proud of, one that can even attract families to our area.
You spread the love of Christ. The Way is open to believers and non-believers, the churched and non-churched. However, we are a Christian ministry, providing daily devotions on the Bible and its applications to life (Golden Rule, self-worth, work ethic, etc.). Our goal is to provide a safe, loving and supportive environment.
To donate by check or money order, download and fill out a contribution form and mail it with your donation to: The Way, P.O. 572 Cadiz, KY  42211.
To donate by credit or debit card via PayPal, simply click the button below.